Submitted by

ckdcaudill

on Thu, 06/09/2016 - 20:40
NEWS RELEASE - May 6, 2016 
Day of Prayer Focused on Those Helping in Appalachia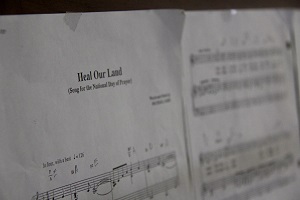 MARTIN, Ky. — Christian Appalachian Project (CAP) observed the CAP Day of Prayer with a service that embodied its mission and upheld the volunteers and staff that serve the people of Appalachia. Staff gathered together from 11 am to noon at the Louis T. Foley Mission Center in Martin, Ky.
Robyn Renner, director of Disaster Relief, co-chaired CAP's Day of Prayer committee. "CAP is so spread out in the various counties in Eastern Kentucky, it was important for us to come together to pray. We had the opportunity to collectively lift up everyone that is a part of helping those in Appalachia and serving others through Christ."
Guy Adams, president and CEO of CAP, opened the service in prayer in the spirit of Reverend Ralph Beiting, who always stressed that CAP began with prayer. Morning chapel time at each location to start the day with prayer continues that tradition. In addition, there were musical performances and a keynote address by Vola Brown, pastor of Grace Fellowship in Stanford, Ky.
"CAP began as an organization through the prayers of Reverend Beiting," Adams said. "We need God to lead and guide us as an organization and without it, well, we wouldn't be an organization. I believe God continues to bless CAP as a whole for all the work we do for His people, serving His people and serving in Appalachia because we do it through His love."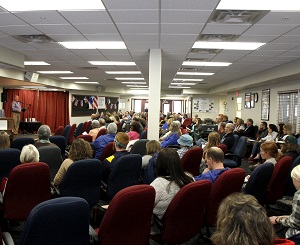 The observance was among many around the country marking the 65th anniversary of the National Day of Prayer. This year's theme, "Wake Up America," was based on Isaiah 58:1 — "Shout it aloud, do not hold back. Raise your voice like a trumpet."
This year staff were encouraged throughout the week leading up to the Day of Prayer to pray for our nation and lift up prayers for those impacted by CAP services. CAP focused prayers on seven areas: volunteers, employees, partners, leaders, Appalachia, participants and donors.
"We sent donors a small candle and asked them to pray for CAP and return the candle," Renner said. "We melted all those candles down into one that was used during our reading and candle lighting ceremony. This was a way of uniting all those together who are a part of this organization and those who make it possible."