Submitted by

evanharrell

on Thu, 02/22/2018 - 12:37
LEXINGTON, Ky. — Christian Appalachian Project (CAP) announced the naming of its board room and training location to honor former board of directors chair and his wife. Tony and Myra Raiche are long-time supporters of CAP's mission to build hope, transform lives, and share Christ's love through service in Appalachia.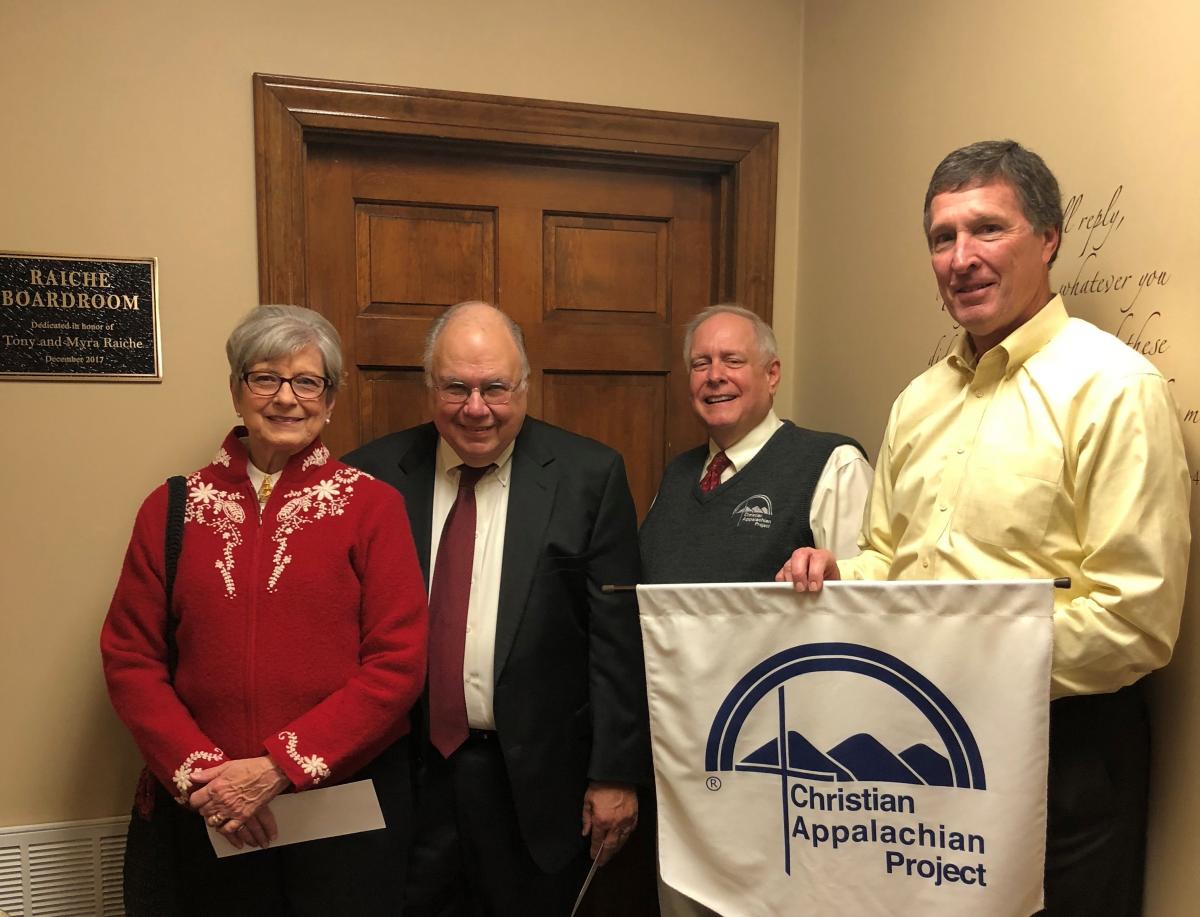 Myra and Tony Raiche; long-time supporters of Christian Appalachian Project, are honored by Guy Adams, president/CEO; and Kevin Doyle, current board chair, for their continued efforts to impact children and families in Eastern Kentucky.
"The Raiches have generously supported our mission of helping children and their families in Eastern Kentucky where they call home," said Guy Adams, president/CEO of CAP. "We could not accomplish the work we do each year to assist families and seniors in need without donors who make our work possible."
Tony Raiche began serving on CAP's Board in August 2003. Under his leadership as board chair from August 2009 to August 2013, he played a significant role in helping the organization develop its first comprehensive strategic plan. He has a bachelor's degree and a master's degree in mechanical engineering. He utilized his engineering expertise during the renovation of CAP's Louis T. Foley Mission Center which resulted in significant savings for CAP which could instead be used for human service programs.
"In the legacy of Father Beiting, CAP's founder, I'm glad to know that CAP not only sees the need, but continues to address those needs in Appalachia," Raiche said. "Every action you take and every decision the organization makes should be driven by one question, 'Does it help people?' If you're answering that question in the affirmative, you're making sure that the contributions of donors are being used well."
His wife Myra, former president of the Girl Scouts Wilderness Road Council, echoed her husband's support of Christian Appalachian Project.
"The more I learned about the need of children, their families, and seniors in Appalachia, I was so supportive of Tony's time on the board and supporting CAP's mission," she said. "We have four children of our own and this is home. We are happy that we can play a part in continuing services to help people in need in our community."