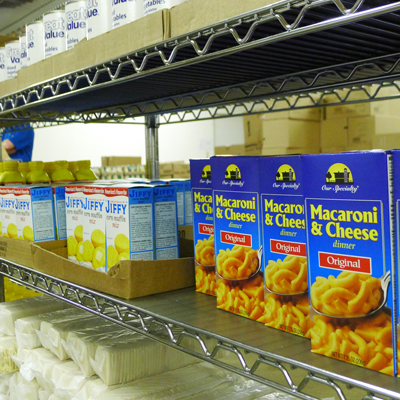 Christian Appalachian Project's Grateful Bread food pantry provides free and nutritious food to eligible families in Rockcastle County each month. Many families are unable to afford the most basic groceries and must often choose between purchasing food and providing safe, warm, and dry homes or health care for their families. CAP helps fill the gap to ensure everyone has access to essential food and necessities.
For people living in need, Grateful Bread provides our participants with a welcome respite from the constant stress of worrying about feeding their families. We are helping put food on the tables of our most vulnerable people.
Hunger Walk
September is Hunger Awareness Month. Each year on the third Thursday in September, Christian Appalachian Project's Grateful Bread Food Pantry sponsors a Hunger Walk in Rockcastle County to raise awareness about hunger-related issues in Appalachia.
Hunger and food insecurity issues exist in every community in the United States. In Kentucky, 17 percent of the state, including nearly a quarter million children, lack consistent access to nutritional meals. Of the 13 states that make up the Appalachia region, Kentucky has by far the worst poverty rate and, sadly, 20 percent of Eastern Kentuckians do not know where their next meal is coming from.
Grateful Bread Food Pantry is doing its part to meet needs in the community. Every week, Christian Appalachian Project employees and volunteers pack nearly 100 weekend food backpacks that are distributed through Rockcastle County Schools. Additionally, CAP distributes food each month to families through the food pantry and to elderly individuals through commodity distribution.
During Hunger Awareness Month, CAP's Grateful Bread Food Pantry encourages the community to donate non-perishable food items and hosts a virtual food drive for people who wish to make a financial donation to support the work.
The pantry packs and distributes commodity boxes for elderly residents in Rockcastle County two days each month. Community volunteers are needed each day for about six hours to assemble the boxes and help residents load items in their vehicle. For more information, contact Sherri Barnett at sbarnett@chrisapp.org or 606.386.0004. Community volunteers are also needed to assemble and load boxes in Jackson County. For more information about Jackson County commodity box distribution, contact Carolyn Lindsey at clindsey@chrisapp.org or 859.339.4319.
Hunger Walk is Sept. 19, 2019. To register CLICK HERE.