Submitted by

mmoreno

on Fri, 05/15/2020 - 09:19
By Tina Bryson

DUNLOW, WV. – All across the nation, communities have been impacted by the economic downturn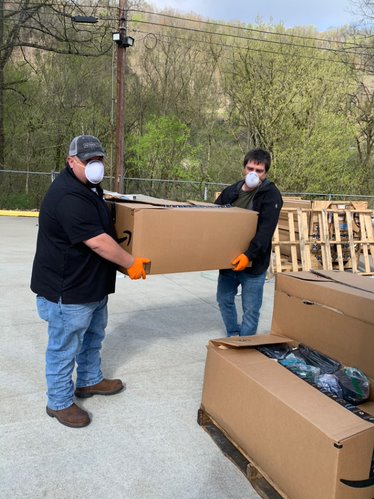 brought on by coronavirus restrictions. Christian Appalachian Project's (CAP) Operation Sharing has partnered with Cabwaylingo Appalachian Mission to ensure that the community has what it needs.  

"Our food pantry numbers have dramatically increased," said Addie Likens, co-director of the mission. "In January and February, we were serving around 300 families each month. We are now serving over 500 families every week. The food insecurity is great because of unemployment and school closures. Some seniors are coming to the food pantry for the first time because they are afraid to shop at the grocery stores."

Feed the Children, based in Oklahoma, distributes product donations from corporate donors to local community partners like CAP, who in turn support the work of partner agencies throughout Appalachia.  

"CAP partners with Feed the Children to reach families in need across America with food and other essentials that offer hope for a better future," said Aaron Thoms, manager of CAP's Operation Sharing warehouse in Paintsville, Kentucky. "We know that Cabwaylingo Appalachian Mission is doing great work and we are glad to be able to support them in reaching families who have the greatest need. Our work would not be possible without collaborative relationships."  

The mission serves the people of the Wayne County, West Virginia community through various services. The community has been decimated by the departure of coal mining jobs, especially over the past years. This work, headed by Addie and her husband, Bill, seeks to alleviate the crippling poverty that devastates the region as well as to help break the cycle of poverty for future generations. CAP's Operation Sharing provides a variety of items including baby food, drinks, snacks, and juices, but also other essentials like clothing, shoes, furniture, and toys.

"Since the COVID-19 outbreak, we have shifted our main focus to the food pantry," Likens said. "We are serving hundreds of families each week as our caseload continues to grow. We receive USDA commodities for our food pantry, but, by partnering with CAP, our families receive a larger variety of food with some bonuses such as lotion, paper products, and household items. We could not have provided food for that many families without the support of CAP."  

Thoms is grateful that CAP can support children and their families, seniors, and individuals with disabilities, not just in Kentucky, but in other Appalachian states like our neighbors in West Virginia.  

"It means so much to our staff to see CAP's mission at work in our own backyards, but also in the region to make sure that families have what they need during these difficult times," Thoms said. "It's hard to think of parents not being able to have enough food to take care of their children or seniors being afraid to go to the grocery store. I am glad that these partnerships allow food and other essential items to make a difference in communities that are the most vulnerable."   

For more information about how to help people in need in Appalachia, visit christianapp.org/coronavirusrelief.