Covid-19: It's too soon to make a decision about Summer Camp 2020, but we plan to do so by late April.
Please contact us if you have any questions. 
Christian Appalachian Project offers two summer camp programs in Eastern Kentucky: Camp AJ and Camp Shawnee. Both provide a rewarding week of learning and fun to hundreds of Appalachian children each summer. The camps serve those who could otherwise not afford the opportunity to attend a summer camp.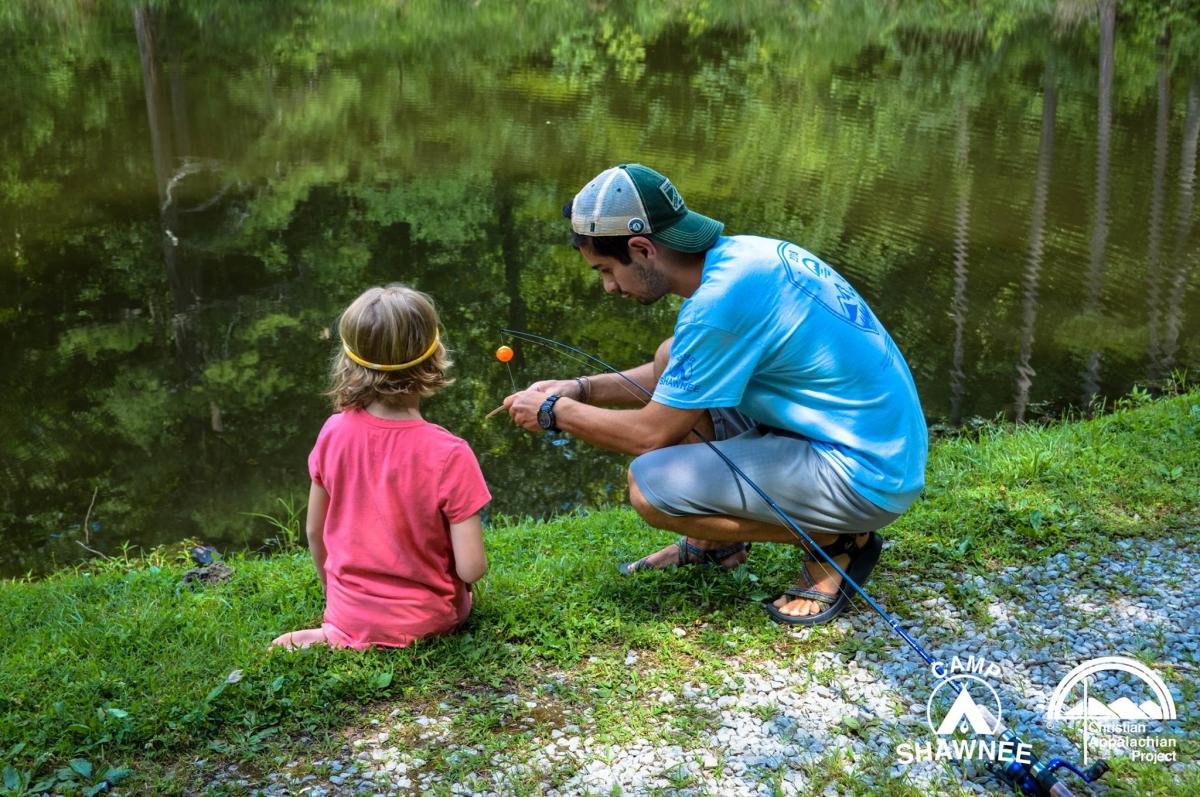 Summer Camp activities include canoeing, fishing, arts and crafts, swimming, hiking, camping, and field games. While all the activities are fun for the children, they also provide the opportunity to learn important life skills such as leadership, safety, team building, self-esteem, and respect for others. The kids love the activities, but what they remember most about camp are the volunteers who cared enough to spend their summer with them.
CAP's summer camps would not be possible without the service of the short-term volunteers who come each June and July. Will you make a difference in a child's life during Summer Camp? We need:
AmeriCorps members: We are accepting applications for AmeriCorps members to serve in a variety of roles at our summer camps. Must serve a minimum of six weeks to be eligible. 
Camp Counselors: If you are high energy and love the outdoors, we need you to be a hero for kids in need.
Lifeguards or Counselor/Lifeguards: We do a lot of swimming and other water activities, so we need lifeguards to keep our campers safe. If you are not currently certified but are interested in becoming a lifeguard, training may be available.
Medical personnel: We're looking for RNs, LPNs, and EMTs.
Arts & crafts leaders: Help inspire campers' creativity by leading our arts & crafts activities.
Photography/Social Media Coordinators: Help our camps' outreach to parents and the public by taking photos at camp and posting to social media.
Floaters and office help: Volunteers are needed to answer phones and help process camper applications.
Volunteers and members are provided with room and board, and may also be eligible for travel reimbursement up to $400. Volunteers serving for six weeks or more may be eligible for scholarship money ($1,311 for student loans or education expenses) or a bi-weekly living allowance of $375.
To be considered as a camp volunteer and/or AmeriCorps member, applicants must meet the following requirements:
Complete an application, including three personal references and a criminal background check.
Be 18 years old or older. We have no upper age limit.
Serve for a minimum of three weeks (minimum one week for medical personnel).
Pass a drug screening upon arrival at camp.
Nurses (RN and LPN) must have a Kentucky license or be licensed in a state participating in the Nurse Licensure Compact.
Apply now to join us this summer!